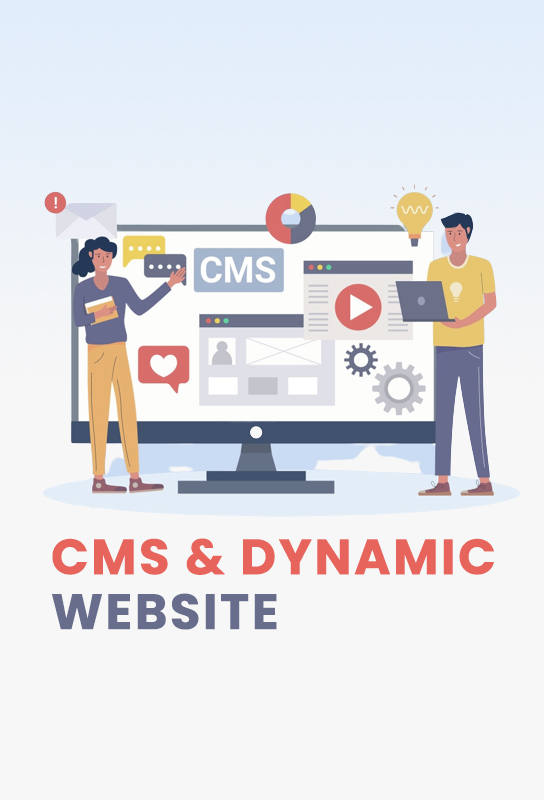 CMS & Dynamic Website
With CMS & Dynamic Website services from Success Stars, you'll be rest assured that your website is in good hands. We'll help you deliver a powerful customer experience for all devices and across various channels. We ensure that your website is user friendly and scalable to handle all your content and any increase in traffic and growth.
Managed CMS & Dynamic Website Services
Lightning Fast Content Management- We provide you with a user friendly and easy to work with CMS. With this, you can smoothly handle your content and set up more efficient workflows. You can seamlessly switch between your CMS, ecommerce, and more within a few clicks without losing or saving content. You can easily go back and pick up where you left off.
File Handling Made Easy- We provide you with tools to enhance your content with media and files and manage them easily. You can easily add, edit and manage content without any prior technical knowledge of either database usage or HTML coding.
Content Personalization- Our team helps you deliver the optimal customer experience by personalizing their digital experience and giving them what they want and expect to see from your brand. We display relevant content based on website interactions and your customer's previous visits.
Fully Responsive- Our services are here to enhance your website's performance and make it fully responsive. With us, you can automatically present your content in the best format and better engage your audience consistently across all devices and channels.
When Should You Opt for a CMS & Dynamic Website?
Looking to update your website yourself?
Do you have regular updates to be made on your website or want to add and delete pages?
Do you want increased security and easy management?
Do you want plugins to improve your website with no extra cost?
Is your website more than 10 pages?
If it's a yes to the above points from your side, then a CMS & Dynamic website is the best option for you. This helps you maintain your site easily, and virtually add unlimited pages. Once you've decided to go ahead and opt for a CMS website, we provide you with extended support and help you design a website template based on your business needs and integrate it with our CMS & Dynamic website.
Benefits of Content Management System (CMS)
The key benefits of using CMS include:
User-friendliness
Quick updates
Cost-efficiency
Conversion of static website to interactive and dynamic website
SEO-friendly features
Easy maintenance
Extendable functionality with plugins and extensions
Content scheduling
Besides the above listed benefits, one major advantage of using CMS is that it helps even users without technical knowledge to create functional pages and upload and change content on their own. This can be done without the need to outsource the work to a web developer or have knowledge of programming languages like PHP or HTML.