Enhance Your Entire Customer Experience
through Omni-Channnel Marketing Automation
ActiveCampaign gives you the email marketing, marketing automation,
CRM and Sales Automation tools you need to create incredible customer experiences.
Use precise targeting to find the right prospects and grow your audience. Capture their attention with messages that match who they are.
Ecommerce
Pages
Email Marketing
Email Segmentation
Subscription Forms
Site Tracking
Deliverability
Grow your relationship with your audience by guidance. Help them learn what's available to address their needs.
Marketing Automation
Messaging & Text (SMS)
Automation Map
Automation Goals
Dynamic Content
Event Tracking
Facebook Custom Audiences
As their confidence in you grows, provide individual audience members with well-timed Calls to action to take the next step with you.
CRM & Sales Automation
Contact & Lead Scoring
Pipelines
Win Probability
Split Action
Attribution
Salesforce App
Delight each customer by knowing what they want, when they want it. Make them so happy that they buy more and tell others why they did.
Conversations & Chat
Loyalty
Split Testing
Predictive Sending
Predictive Content
Site Messages
Web Personalization
Support Customer Engagement
across every channel that matters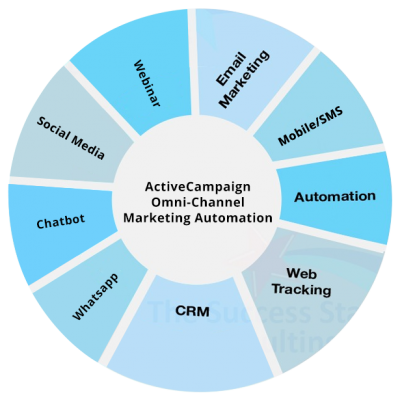 Personalized Email Marketing
Send exactly what your contacts want
Powerful Marketing Automation
Automation gives you back your time
Sales automation helps you sell more
Personalized Email Marketing
Message your customers when it matters most
Put the right emails in front of the right people
Send exactly what your contacts want to see
What happens when you need to send different messages to different audiences? Segmentation and dynamic content make it easy to customize your message and send targeted emails to exactly the right contact.
Email marketing that's personalized and personal
Personalize your emails based on any contact information you have. When you send exactly what your contacts want to see, your emails feel personal. And more people engage with your emails.
Find what works, then test to find what works better
Reporting helps you see which emails are performing and which ones could use work. Then, you can use simple split testing to make your emails get more opens, clicks, and buys.
THE TOOLS YOU NEED FOR SUCCESSFUL EMAIL MARKETING
Multi-user editing
Edit campaigns together with your team.
Revision History
Store all your edits in case you need an older email.
Managed deliverability
Have deliverability taken care of, so you reach as many people as possible.
Integrations
Connect your email marketing service to your favorite apps.
Conditional Content
Show different content to different contacts based on certain conditions.
Mobile optimized
Make emails look as good on mobile as they do on desktop.
Link actions
Add tags, get notifications, and create deals, the second an email link is clicked.
Custom data
Use custom fields to collect the contact information that matters to you most.
Geotracking
Automatically capture your contacts location for geotargeted campaigns.
Audience segmentation
Group your contacts based on practically any information you have.
Free image hosting
Upload unlimited images for your campaigns.
Site tracking
Connect your email marketing to your contact's behavior on your website.
Personalization
Personalize each email based on what you know about each contact.
Social sharing
Track your campaigns' viral spread on popular social media sites.
Analytics
Track what contacts do after they click through to your site through our Google Analytics integration.
Automation handles what no one else has time for
Segmentation makes sure the right people get the right info
Segmentation lets you send exactly what your contacts want to see. When you automate your segments, you can deliver personalized follow-ups with dynamic email content, A/B test flows, and make your drip campaigns more effective.
See your entire customer lifecycle in the automations map
See all your automations in a single view. With a birds-eye view of your marketing automation platform, you can check performance reports quickly, then make tweaks without worrying about stuff going wrong. Your whole customer lifecycle is connected across every channel.
WHAT CAN YOU GET IN A MARKETING AUTOMATION PLATFORM?
Site tracking
What do people do on your website? Connect your CMS tool to track actions on your site, then follow up with triggered messages.
Sign-up forms
Collect email addresses, segment your audience, and trigger automations with custom forms and landing pages.
Migration Services
We'll migrate your automations, email templates, sign-up forms, and contacts to ActiveCampaign for free.
Goal tracking
Track goal analytics and conversions to see what's working and what isn't in your marketing.
Advanced reporting
Figure out which marketing campaign automation gets results. Use performance and custom reports to find ways to grow.
Attribution
Track the entire customer lifecycle to see where your customers come from.
Split action
Find your top performing automations by A/B testing your automations and email funnels against each other.
Lead scoring
Find your most engaged contacts and nurture leads to offer them exactly what they want.
Notification Emails
Let automation nurture your leads, then notify you and automate task assignment at the perfect moment to follow up.
Keep track of leads in a CRM, not in your head
Contact management makes sure no sales contacts slip through the cracks
Automated contact management lets you see your whole sales process at a glance. When you can automate task assignment and sales routing, your sales team is always on the same page. Track interaction at every stage of the sales cycle, and pick up where anyone else left off.
Lead scoring tells you which leads to focus on and when to wait
Which leads are the highest priority? Who is most likely to become a customer? When should a marketing qualified lead become a sales qualified lead? Instead of guessing lead quality, let lead scoring, win probability, and automated segmentation tell you the right time for phone calls and outreach emails.
Connect with Gmail, Outlook, or another email provider
Forget tab switching. Get the Chrome extension to manage contacts from any web page and create deals directly from your Gmail account. Track email opens and replies, and keep contact information in front of you when you need it.
WHAT IS A SALES CRM WITH AUTOMATION?
Sales reporting
Track the performance of individual members of your team and your sales funnel.
Win probability
See how likely you are to close each deal, so you can focus your time where it makes a difference.
Marketing automation
Automate your sales funnel. Create nurture campaigns for the deals that aren't quite ready to close.
Segmentation
Make sure you know who you're talking to. Automatically segment your leads based on the actions they take.
Lead scoring
Find leads most engaged with your business and content. Add scores to overall deals and individual contacts.
Notification emails
Notify your sales team when it's time to follow up. Add notifications from within sales automations and nurture campaigns.
Automated deal updates
Automatically update deal owners, deal stage, deals won or lost, and deal value.
Task assignment
Assign tasks to individual sales people, either manually or within automations.
Note creation
Take notes directly within each deal and contact record, so that your whole sales team is on the same page.
Anticipate customer needs and improve every interaction
Make your customer service more personal
Before you chat with a customer or reach out over email, you need to have context into their history with your company. See what problems or questions they've had in the past, and predict their needs.
Identify & reward your best customers
Offer incentives or special deals to customers who buy repeatedly, or create communities of strong customers to advocate for your business, growing your customer base from the inside out.
Track customer interactions and behaviors
Providing a great customer experience starts with understanding what your customers like to see. Track past email clicks, purchases, and live chats across the ActiveCampaign platform to get a sense of what makes your best customers happy.
Prevent bad customer experiences
Lead scoring, engagement tagging, and pipeline automation make it easy to track customer health and take action so you can step in to offer support. Identify when customers and accounts are at risk of leaving a bad review, having a subpar experience, and more.
Assist customers wherever, whenever
Good customer service happens everywhere, and at every stage. You can now go beyond traditional support channels and leverage the latest in chatbot automations, multi-channel support, and nurturing email workflows to provide the best customer service experience.
THE CUSTOMER SERVICE TOOLS YOU NEED TO SUCCEED
Multi-channel support
Pick up conversations via web chat, email, or Facebook Messenger.
Site & event tracking
See exactly what your customers are doing in your app and on your website.
Flexible pipeline
Create the pipeline stages and customer health metrics that make sense for your business.
Chatbot automations
Automate messages, collect data, and pre-qualify leads — even if you're offline.
Native integrations
Bring data in from 300+ apps to inform your customer service processes.
Team collaboration
Tag a teammate or assign ownership to bring them into a conversation and stay on the same page.
Automated tasks
Create tasks in response to key events and assign them to a team member.
Automated workflows
Use triggers, actions, and logic to automate outreach based on contact actions.
Consolidated records
Keep track of all customer information in a single contact record.